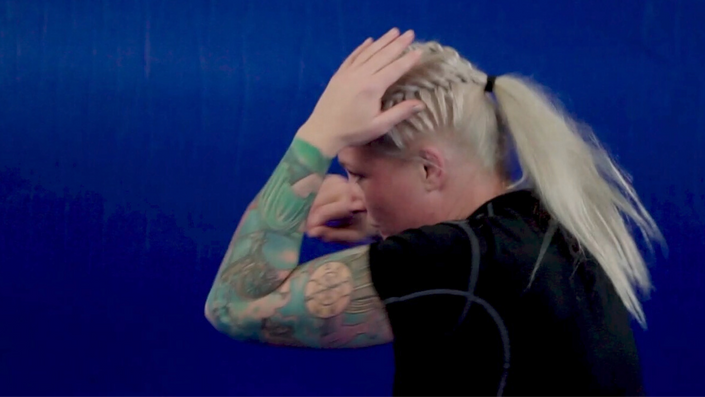 REAL Self Defense 101: Hard Target Program
Take control of your safety & become a Hard Target for violence with one proven, easy-to-learn system.
"I wouldn't know what to do if my safety were threatened."
Everyone has the right to safety and self-preservation.

But if you're like most people, you may be walking through the world unprepared, unskilled, and uncertain in your ability to protect yourself.

Or maybe you have some martial arts training, but you don't know if your skills can hold up on the street.
Not only does this leave you with fewer options and more fear when facing a threat to your safety, you are much more vulnerable than you have to be: Most attackers choose an easy target.
Most people don't have the time or interest to become a combat expert just in case they need it one day.
The good news is, it doesn't take a lot of investment to become a harder target for crime and violence.
You don't have to become a black belt or even know how to throw a punch to become a Hard Target.
You just need the right tools.
The Hard Target Program brings you the most direct and user-friendly route to taking your safety into your own hands.

After this program, you will:

be prepared to strategically detect, assess, and handle the unexpected
have a decreased likelihood of freezing and hesitation, plus enhanced fear management in a threatening situation
feel more confident and self-reliant everywhere you go
increase your day-to-day peace of mind
We've taken over 2 decades of expertise with the best, most functional, empirically-tested training and distilled it down into what you need NOW:

One easy and effective self defense program for everyone.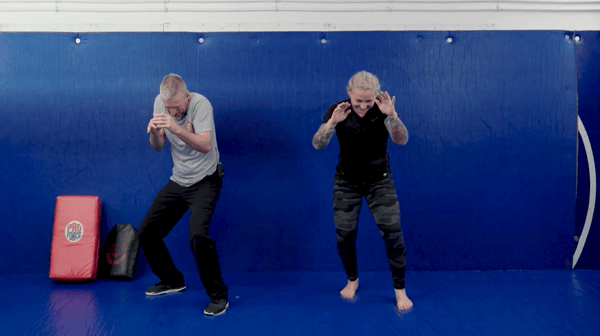 See our Course Curriculum below to watch a free preview
Effective for law enforcement & security. But designed for a citizen's perspective.

Wise Warrior Gym has trained thousands of regular citizens of all ages and abilities, plus martial artists, fighters, social workers, security professionals, and law enforcement officers.

The Hard Target Program, available for the first time online, is based on our REAL Self Defense curriculum and award-winning one-day Hard Target Seminar.
It has been offered to the community through local law enforcement and REACH Edmonton Council for Safer Communities, as well as taught internationally.
After taking the Hard Target Seminar, 100% of participants surveyed felt more confident, empowered, and prepared to defend themselves in a broad range of scenarios.

Protection tools for the real world in your back pocket, ready if you need them.

Whether you're a complete beginner with zero training background, a professional out in the field, or a martial artist interested in reality-based skills, the Hard Target Program gives you a practical advantage.
What You'll Get:

One easy, reliable toolbox you can use for the rest of your life
Comprehensive self defense that puts you steps ahead with awareness, environmental, and de-escalation strategies so you can disengage ASAP
Physical tools that are easy and natural plus highly relevant to a broad range of scenarios
Plus:
The inside scoop on how the attacker thinks to give you an edge
An emphasis on SAFE training and legalities, so you can use your skills responsibly
Engaging lessons that make the material fun and easy to learn
PDF downloads included
Designed to enhance your survivability in the real world, you'll come away from this course with a strategic advantage, critical skills, and a reliable course of action.

Don't be an easy target for violence. Become a Hard Target.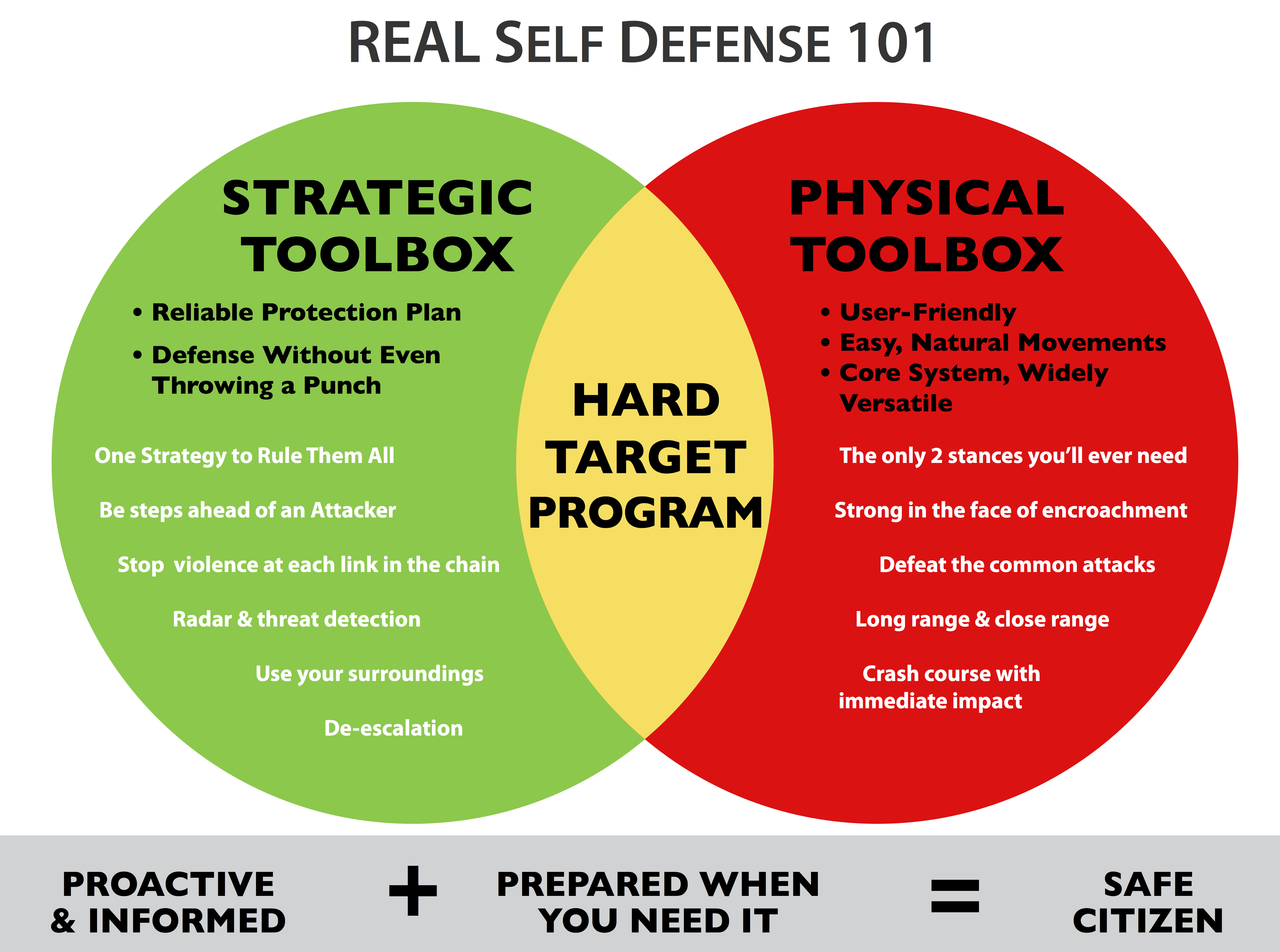 I have been training martial arts in various forms since I was a teenager (Kick Boxing, Karate, Wing Chun Kung Fu, Boxing, Mixed Martial Arts, Krav Maga (CQC instructor), etc). I have applied my skills in numerous violent encounters in my personal and professional life.

Since living in the Edmonton area, I tried for years to locate a good "reality based" self defense gym. While training with different people in the Edmonton martial arts community, I kept hearing Calen Paine's name over and over again. Many people told me he is a great instructor, and I should go see him at his school...
I bit the bullet and walked through the front doors of the "Wise Warrior Gym." I had no idea how deep this rabbit hole would go, and I have never looked back…
The questions is: has the training been effective compared to what I knew before? The answer is an absolute yes...

I have to function within the rules of the law, and very strict rules of engagement...
The [systems taught have] been a very effective compliment to all the training I have taken...
In summary, it has been extremely rewarding and practical to train under Coach Paine. Coach Paine is a lifelong student of the martial arts, and a man who I would call a "warrior philosopher." I am proud to be a student at his school.
- Daniel, LEO Canada

"I didn't realize how well-equipped I was until, years after taking the seminar, I was walking home and 2 men started following me out of nowhere. I have been followed before and always felt helpless and too intimidated to think properly. This time I was able to respond capably and automatically.
The most surprising part was noticing that my strategies came back to the surface when I needed them. My mind didn't need to grasp around to figure out what to do or say, instead the training came out of me, like using my voice and planning out my next steps.
Once you are properly equipped, you simply aren't as vulnerable and helpless in those situations. The skills are invaluable. Without hesitation, I recommend Wise Warrior Gym to everyone."
- Grace T., Fight Like a Girl Seminar graduate
Your Instructor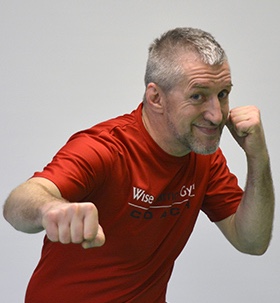 I'm Calen Paine, creator of REAL Self Defense and the founder and director of Wise Warrior Gym, established in 1995.
Wise Warrior Gym serves the community with self defense, mixed martial arts, weapons training, government-accredited security training, and personal development. Our mandate is to provide the most functional, reality-based, and empirically-tested training using sophisticated teaching methodologies. We also recognize the power of the martial arts as a vehicle for personal growth.

I have logged over 20,000 hours of teaching all age ranges and ability levels. I aim to bring enthusiasm to my teaching to facilitate greater enjoyment and improve student retention and results. The world of violence can be dark and ugly, but effective training doesn't have to be.
I've rounded out my lifelong martial arts background with ongoing courses in security, personal development, psychology, coaching, and communications.
I've taught hundreds of seminars to security professionals, social services workers, Victim Services units, women's groups, schools, and other businesses and organizations.
I'm incredibly grateful that my vocation gives me the opportunity to meet cool people, travel, have a life-changing impact on others, and pay back at least a fraction of what my own coaches, teachers, and mentors have given to me.
I'm looking forward to building up more Wise Warriors across the globe.

Course Curriculum
Welcome to Wise Warrior University
Available in days
days after you enroll

"Me and my group took self defense with Calen. It was very informative and fun at the same time. I have taken self defense before but at the Wise Warrior Gym it was much more exciting and effective. I was able to learn a lot of new techniques."
- Olivia A., Hard Target Seminar graduate
"Thank you for such a great, fun and informative class. You gave us so much of your energy, knowledge and empowerment.
I feel more confident knowing I have new tools, many options, to try to get myself, or myself and my husband/friend/etc, out of a bad situation.
It was worth every penny, even more actually, because just safety (and frankly, not dying) is something that's priceless.
The way you taught was awesome, the order of how things were presented was well thought out... all the little details really helped.
[Your advanced student] was awesome with providing feedback as well. Watching her move speaks so much about the training and it's always inspiring to be around real-life badass chicks.
I admire the work that you do and just the way you said that our questions might help someone else, it's nice to think about the ripples your teachings have caused."
- Mara M., Hard Target Seminar graduate

"Just wanted to say THANKS SO MUCH!!! It's rare that you meet someone who is a true teacher—that can teach anyone and make those around him passionate about what they are learning. I had always loved watching fights and brawls (*grin*) but I never expected I could learn—let alone so much in so little time. You truly have a gift. You've developed [my] passion... So thanks from the bottom of my heart."
- Joanna, Seminar participant
Frequently Asked Questions
When does the course start and finish?
The course starts now and never ends! It is a completely self-paced online course - you decide when you start and when you finish.
How long do I have access to the course?
You have lifetime access. After enrolling, you have unlimited access to this course for as long as you like - across any and all devices you own.
What if I am unhappy with the course?
We want you to be happy with your purchase. If you are unsatisfied, contact us in the first 30 days and we will give you a full refund.
Will this course cover my specific self defense needs and concerns?
This is a crash course that equips you with core strategies and techniques fundamental to security and self-defense. Our experience shows that this addresses the vast majority of concerns. To go further in-depth with your training, stay tuned for our full REAL Self Defense series.
I have no athletic ability or background in martial arts. Will I be able to learn this?
The skills taught involve gross motor movements that are natural to your body. This course is designed with the regular citizen in mind and NO complicated techniques or finesse will be required from you. Generally people are pleasantly surprised at how easy and natural it is.
Do I really need self defense training?
We've had plenty of feedback from students that were glad they invested some time to learn even basic skills. It has literally saved people during serious situations. And although we also know some people have successfully defended themselves without training, you just walk differently in the world when you know you have the tools to take care of yourself. Like first aid, it's a very good idea for everyone. Most attackers do NOT want to deal with a Hard Target.